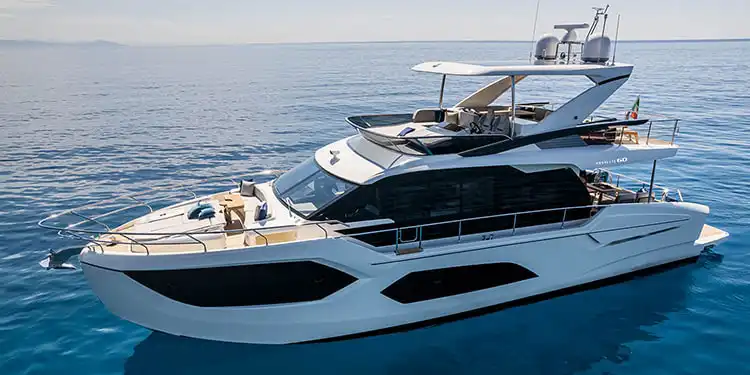 Absolute Dealer in Canada – Québec & Ontario
Quick Facts about Absolute Yachts
Absolute Yachts are built at their shipyard in Piacenza, Italy.
Absolute builds luxury cruising boats between 47 and 75-feet in length.
There are 3 model ranges: Flybridge, Navetta, and Coupe.
The company was founded in 2002 and built its first model, the 56 STC, in 2006.
Absolute is one of the leading exporters of Italian-made products around the world.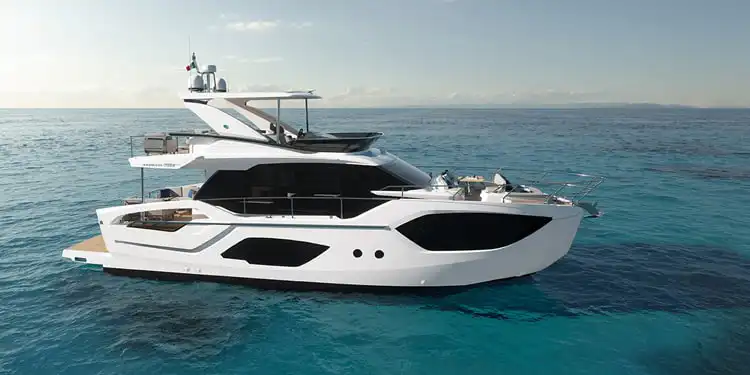 Experience the award-winning, innovative solutions combined with chic Italian style, that have propelled Absolute Yachts to the forefront of the luxury boating market. From the flagship Navetta 75 to the entry-level 48 Coupe, the commitment to elegance, performance, space, and light is abundant throughout each range. "Every trip out on an Absolute is an adventure," says Vincent Piétracoup, Director of Marine 360. "Every space is created to enhance your time spent boating, whether it's facilitating conversation, enjoying a dinner under the stars with friends, or spending weeks on board cruising the coastline. Absolute excels in creating a comfortable, safe yacht that gives you the confidence you need to explore."

Marine 360 is proud to be a dealer for Absolute Yachts in eastern Canada including Toronto, Ottawa, Montreal, Quebec City, and surrounding areas.
| | | |
| --- | --- | --- |
| 48 Coupé | Navetta 48 | Navetta 52 |
| Navetta 58 | Navetta 64 | Navetta 68 |
| Navetta 75 | 47 FLY | 52 FLY |
| 56 FLY | 62 FLY | |
Absolute is now a leader in the luxury yacht market thanks to consistent growth in new models, a strong dealer network, quality equipment partners, and forward-thinking design solutions for improving social zones on every model. Concepts such as hidden storage compartments, free-standing furniture, cutting-edge technology in navigational electronics, improved visibility for better views, and overall larger windows on both decks have allowed Absolute to rise above its competition. The Absolute team is free to create and innovate without the constrictions of answering to shareholders. The results are award-winning models almost consistently on a yearly basis as new models come to fruition. The Navetta 75, for example, recently took home the 'Best Interior Design' award at the World Yacht Trophies, while the 48 Coupé received the European Powerboat of the Year.

What Are the Differences Between the 3 Absolute Model Ranges?
There are 3 different model ranges built by Absolute; Coupé, Flybridge, and Navetta.
The Coupé range features sport, express cruise style models. Right now only the 48 Coupé is available, but more models are planned. Owners of an Absolute in this range can expect speedy performance, a wide, spacious cockpit for entertaining, and optional solar panels on the sunroof. Absolute has begun offering solar-generated power on board that can give you the silence you desire while at anchor, instead of listening to the hum of a generator.
The flybridge range is incredibly popular with 6 models currently offered between 47 and 62 feet. The flybridge area is a favorite among boat owners that wish to cruise or entertain. It gives the owner and all guests on board a wonderfully elevated view of your surroundings. Some flybridge features on every Absolute include an optional hardtop with sunroof, upper helm station with complete electronics, wet bar, BBQ grill, lounge chairs for sunbathing, and an outdoor dining space.
The Navetta range is best described as a cross between a luxury flybridge yacht and a long-distance cruiser. Absolute powers the Navetta range with Volvo Penta engines that, along with the unique hull shape, result in excellent fuel efficiency.

What Is It Like to Stay Overnight on an Absolute Yacht?
Whether you are taking on The Great Loop in the 48 Coupé or cruising south to the islands on the new 52 FLY, Absolute does an exceptional job of making sure every cabin feels exactly like your bedroom at home. The master cabin and all guest cabins feature windows and portholes below deck to allow plenty of natural light and fresh air. Every cabin features plenty of storage for luggage and the master, along with the VIP cabin, have en suite heads. On larger models, like the Navetta 75, the 3rd and 4th guest cabins feature either en suite heads or share a bathroom. Absolute truly does a magnificent job at creating a home away from home, on the water.

How to Buy a New Absolute Yacht
Marine 360 is your new Absolute dealer for Eastern Canada. Our Absolute territory includes Toronto, Montreal, Quebec City, Ottawa, and more. Currently own a boat? Our brokerage program consists of a comprehensive sales process that prices it accurately in the market, exposes it to the right buyers, and negotiates a strong sales price on your behalf.
We are your best resource for buying or selling a yacht in Canada. Our team of factory-trained Absolute experts can assist you in purchasing a new boat from inventory or designing your own. From selecting the right model, to choosing the perfect options and equipment, Marine 360 makes the entire experience easy for you. We look forward to helping you into the Absolute Yacht of your dreams!